19 huhtikuuta 2022
Reading time 4 minutes
The New Era of Electrification comes to Terminal Tractors
What is the impact of electric solutions on operations and working methods? The Kalmar Ottawa T2E+ Electric Terminal Tractor is an excellent example of where the future is going - leaner, greener and, more highly efficient.
Kalmar Mobile Solutions is committed to reducing 550,000 tons of CO2 emissions by 2024. A key part of this push was the launch of Kalmar's entire portfolio as electric in December 2021.
Niclas Samuelsson, Product Manager, Terminal Tractors, says that the Kalmar Terminal Tractor is an important component for future-proofing the company.
"If 25% of all Kalmar's terminal tractors sold in 2021 were electrically powered instead of diesel powered, this would have reduced CO2 emissions by 280,000 tons." This equals the amount of energy used by 33,718 regular homes annually.
Knowledge is power
Tobias Zink, Sales Manager, Germany, comments that the shift to electricity is no longer a question of why. It's a question of how.
"Customers are now asking many questions about electrification, such as are they still able to run operations 24/7 if they electric?"
Both men maintain that these questions are important to ask since the more information you have, the better you will'be able to deal with the coming changes.
"We're making it as easy as possible for our customers to go electric with their tractor fleet."
Optimised battery outlives tractor
Speaking about the Kalmar Ottawa Electric Terminal Tractor, Samuelsson observes it is noteworthy that the tractor comes in two different battery sizes:
"There are Li-Ion batteries for both 152 kWh and 182 kWh." A thermal management system helps keep the batteries in optimal condition at all times, allowing for operations in a wide range of temperatures (from -30°C to + 50°C degrees).
According to Samuelsson, many customers have expressed concerns about battery lifetime. He points out that many factors impact this issue: one is the rate of charging and discharging, as well as the depth of discharge and operating temperature.
"We have looked into this extensively and optimised the battery. Consequently, the lifetime of the battery is longer than the lifetime of the tractor itself.
After the first life of the tractor (around ten years), the battery still retains 80% of its capacity.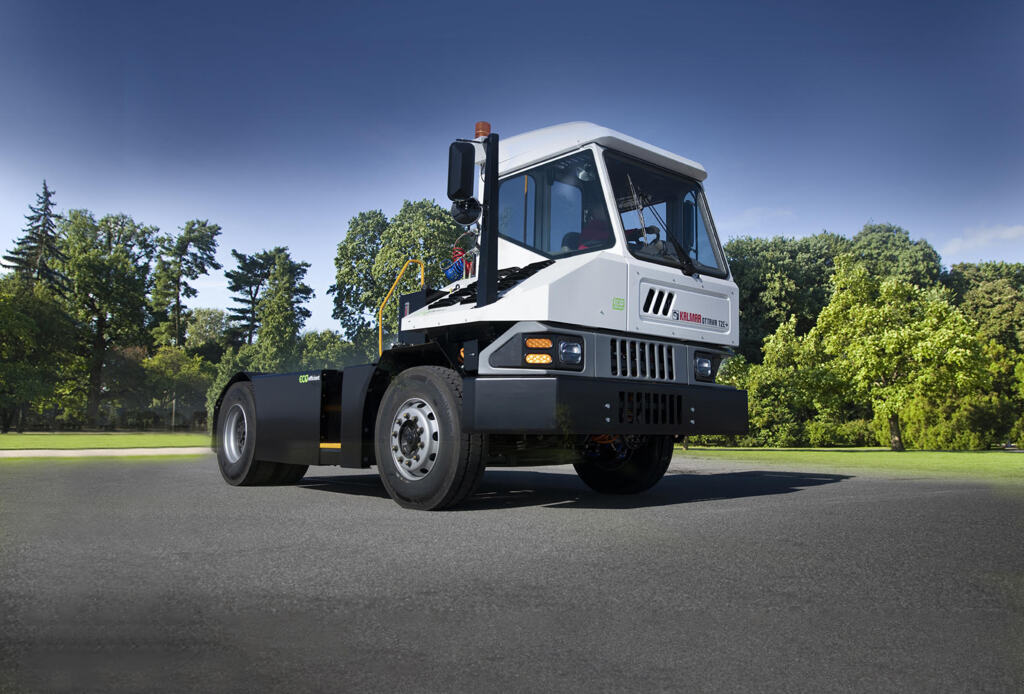 An eye on performance
Zink points out that as the battery is the most expensive part of the tractor, it is crucial to make it optimal. As smart chargers now optimise each charging cycle, lifetime management is taken to a new level.
The most frequently asked question is how many kilometres or hours of performance can they expect from an electrical tractor. Samuelsson says that a tractor equipped with, for instance a 182 kWh battery can keep going for up to 10 hours in port operation and as much as 18 hours in distribution operation.
"Naturally, load, speed and grade all impact the final result and just how much energy any specific duty cycle consumes," he adds.
Samuelsson also knows what question comes next: how long does it take to recharge after a 10-18 hour shift?
"Our most powerful charger, the 150 kW charger, will charge a 182 kWh battery from 20% capacity to 100% capacity in 58 minutes."
There are also more moderate chargers -- 24 kW and 90 kW -- that will fill up that same battery more slowly (6 h 6 minutes and 1 h 36 minutes, respectively), so this works well in an overnight charge setting.
"Our most powerful charger, the 150 kW charger, will charge a 182 kWh battery from 20% capacity to 100% capacity in 58 minutes."
Opportunity charging
When running, for example, port operations around the clock, even a 58-minute charging break may seem like an eternity. Samuelsson says that "opportunity charging" is a significant way to do this, utilising every lunch, coffee and other breaks for recharging. That way you should be able to maintain 24/7 operations.
"For the charging to be quick and convenient, you of course need to place the chargers in a smart way," Samuelsson points out.
In addition to the batteries themselves, the Kalmar electrification sub-systems include E-Drive, E-Accessory and chargers, which are all important for an overal electric package.
Outperforming the diesel engine
The heart of the terminal tractor, however, is still the 260 kW electric traction motor. Offering 1,800 Nm continuous torque and 3,400 Nm peak torque, it powers four different terminal tractors with up to 90,000 kg GCW at 3% grade.
"There's a lot more power than with the diesel version," says Zink.
With this level of performance, the e-Tractor is expected to be a very popular, straightforward choice for the customer.
Fewer moving parts in e-tractor
Another important question customers ask concerns maintenance requirements. They want to know if they need highly specialised e-technicians to service the electric fleet.
Samuelsson says that electric or not, a terminal tractor is still a mechanical creation. For daily operations, a regular service tech will do quite well, but some of the maintenance does require a specialised certified Kalmar technician, he says.
"Actually, we're finding that the electrical solution needs fewer moving parts than the diesel version."
With the classic combustion engine, there is also a range of hassles, such as oil leaks, that will become a thing of the past as we move into the Era of Electrification.
Niclas Samuelsson and Tobias Zink discussed the impacts electric solutions have on operations and a way of working in our webinar. A recording of the webinar is available here.