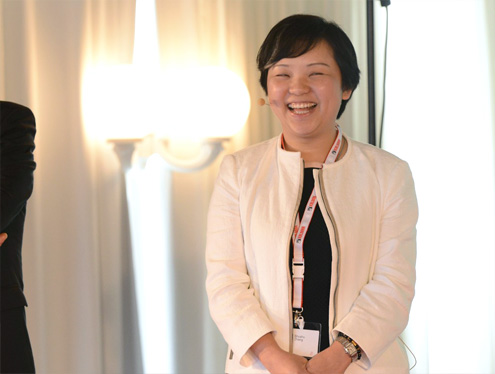 Zhang ShushuJohtaja, Marketing and Communications APAC, Hongkong
Astuin Cargotecin palvelukseen vuonna 2011 Senior Manageriksi, Communications Asia-Pacific. Kun Cargotecin liiketoimintamalli kehittyi kahden viime vuoden aikana, myös minun roolini alueorganisaatiossa muuttui. Kun yhä enemmän ajastani ja vaivastani suuntautui Kalmarin myynnin ja markkinoinnin eturivin tiimien tukemiseen, minut nimitettiin vuonna 2013 Kalmar APAC:in Marketing and Communications -osaston johtajaksi.
Vastuullani on alueellinen markkinointi ja viestintä Aasia-Tyynimeri-alueella. Julkaisemme henkilöstölehteä ja sähköisiä uutiskirjeitä, järjestämme asiakastilaisuuksia, tuotamme markkinointimateriaaleja, toteutamme kampanjoita, ja tarkkailemme tärkeimpien kilpailijoidemme kuulumisia. Alueellisen roolini lisäksi johdan myös Kiinan asiakkuudenhallintatoimintoja. Tämä rooli käsittää markkinointia ja yritystietoa, prosessiparannuksia ja -kohdennusta asiakkuudenhallintaan, jälleenmyyjien hallintaa ja myynnin hallinnointia tällä valtavalla markkina-alueella.
Työskentelen tiiviissä yhteistyössä etulinjan myynti- ja asiakkuudenhallintatiimin kanssa tarjotakseni heille tehokkaat työkalut ja tarpeelliset tiedot. Työskentelen myös APAC:in johtoryhmän kanssa edistääksemme parhaita käytäntöjä ja sisäistä viestintää. Erikoisroolini sisäisenä kouluttajana antaa minulle mahdollisuuden työskennellä eri toiminnoista ja maista peräisin olevien etulinjan kollegoiden kanssa. Työni on haastavaa mutta jännittävää.