1 maaliskuuta 2022
Reading time 3 minutes
Increased safety, productivity and predictability: Introducing the Kalmar Robotic Portfolio
Autonomous mobile equipment will open new automation and robotisation possibilities for container terminals, logistics hubs and industrial companies.
In December, Kalmar announced the introduction of the Kalmar Robotic Portfolio – a future range of intelligent, flexible and autonomous mobile equipment solutions designed to improve safety and eco-efficiency without compromising productivity. The portfolio will consist of the Kalmar RoboTractor (autonomous terminal tractor), RoboLifter (autonomous forklift truck), RoboStacker (autonomous reachstacker), and RoboHandler (autonomous empty container handler). Prototypes are currently being tested at different Kalmar and customer sites around the world.
Kalmar's goal is to make automation and robotics accessible to new industry segments, including distribution centres and heavy logistics, in addition to ports and terminals. With the introduction of the new portfolio, Kalmar is enhancing its already extensive and well-established automation offering with autonomous, self-driven solutions that will be capable of operating in the mixed-traffic environments of the future.
From automation to robotics
In contrast to today's terminal automation, Kalmar's new robotic solutions will move more of the functionality and intelligence of the system into the actual equipment. For example, localisation, obstacle detection, routing and path finding can be handled autonomously by the machines. Autonomous equipment is monitored from the operations centre, and remote control is required only for exceptions handling.
"Robotic equipment doesn't require heavy infrastructure investments as intelligence is moved to the machine from the central control system," says Lasse Eriksson, Vice President, Technology at Kalmar. "Robotics will be built on a standardised platform, so the solutions will be easier, lighter and cheaper to deploy. Furthermore, robotics offers additional flexibility and scalability especially for customers with smaller equipment fleets."
"Robotics will be built on a standardised platform, so the solutions will be easier, lighter and cheaper to deploy."
Safety on the job
Kalmar's intelligent and flexible robotic portfolio is designed to be safe and easy to deploy, maintain and scale for customers across a wide variety of industries. With the new portfolio, Kalmar is laying the foundations for fully autonomous, unmanned material handling with zero accidents, zero emissions and maximum productivity.
"It is unfortunate that the logistics industry still has a lot of room for improvement in safety culture," says Lasse Eriksson. "We want to help our customers keep their people safe and reduce their impact on the environment with cutting-edge solutions that make no compromises in safety, sustainability or performance."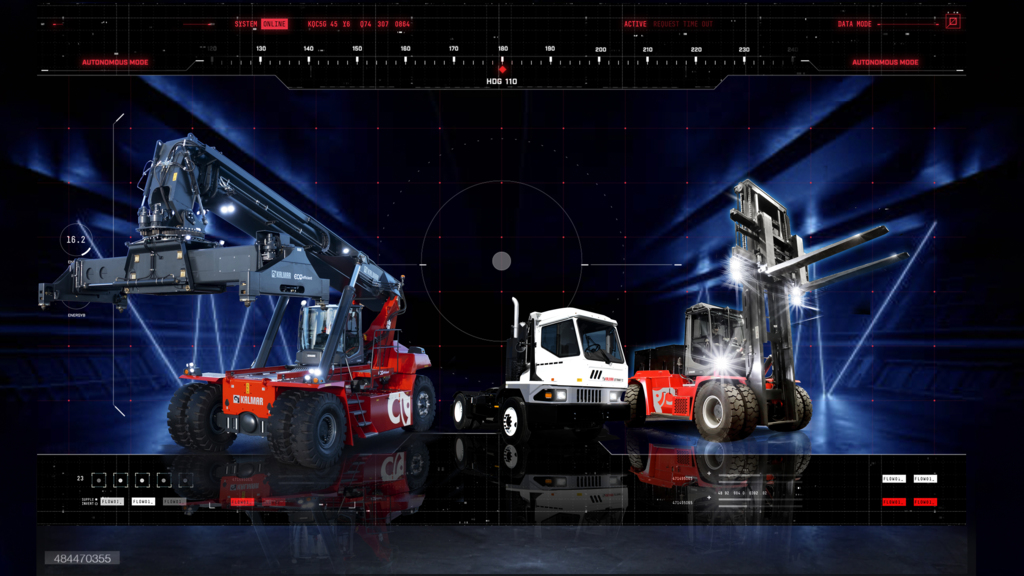 New possibilities for industrial logistics
Kalmar's robotic portfolio will be developed into operational products over the next few years. In addition to ports and container terminals, the equipment will be relevant for various industry segments such as distribution centres, sawmills and metal mills.
"In many regions, we are seeing strong growth in coastal and inland waterway shipping, as logistics companies seek to reduce emissions and find alternatives to congested road transport," says Jari Hämäläinen, Director, Automation, Kalmar. "Over the next several years, this will not only create new small-scale container terminals that serve as regional transport hubs, but also increase the demands on existing terminals. Robotised, autonomous equipment will be able to address the needs of all types of facilities, from smaller container terminals based around reachstackers, to diverse load handling scenarios in industrial settings."
Hämäläinen notes that a common factor for many of these applications is that operating the facility logistics is not the core business of the company. "In many industrial settings, automation will be required for productive and predictable internal logistics, as well as for workplace safety. Simultaneously, we foresee an increased demand for the outsourcing of logistics processes to a trusted external partner, so that industrial companies are able to focus on their core business. Robotised cargo handling solutions help meet both of these needs."
Support for different automation levels
As with Kalmar's other terminal automation solutions, Kalmar's new robotic portfolio will be able to adapt to any level of existing automation.
"For new container terminals that will be built over the coming years, a fully automated and robotised solution will be the likely choice from day one," says Jari Hämäläinen. "However, for existing terminals, we can combine automated and autonomous equipment with various levels of remote control and teleoperations. This will enable customers to move quicker to address their business needs without having to wait for the entire equipment fleet to be automated or robotised."
"With the new Kalmar Robotic Portfolio, we are looking to shape the industry and drive the robotisation development in mobile equipment."
Ultimately, the optimum mix between automated, autonomous and remote-controlled operation will depend on the needs of the individual terminal or site. "We always need to look at the big picture, taking into account safety, productivity, eco-efficiency and operational predictability to find the best solution," Hämäläinen notes. "With the new Kalmar Robotic Portfolio, we are looking to shape the industry and drive the robotisation development in mobile equipment, while making robotics accessible to completely new customer segments."