What can you practically do to make cargo handling operations safer without compromising on productivity? And how could a simple solution worth 500€ have prevented a cargo handling damage cost of more than 100.000€?
In this webinar our experts discuss four areas where you can improve safety without sacrificing productivity: Yard, Cargo Handling Equipment, Containers & Cargo and People.
In order to effectively and proactively address safety issues, we will share concrete examples and case studies how safety improvements related to structural design of the mobile equipment, inspection & monitoring as well as equipment service, maintenance and upgrades could have prevented accidents. Every move counts - no matter how small - to achieve your safety and productivity goals.
During this webinar you will learn:
The major safety areas in cargo handling
How to effectively and proactively address safety issues
The value of safety-efficiency
How you can improve safety today


The webinar lasts for approximately 50 minutes, including a question and answer session. The webinar was originally aired 28 September 2020.
Your webinar hosts
Mette Kjems Bærentzen
Product Portfolio Manager, Counterbalanced Container Handlers, Kalmar
Mette Kjems Bærentzen is responsible for the development of Kalmar's portfolio of Reachstackers and Empty Container Handlers.
Mette has worked at Kalmar for three years focusing on a broad scope of development initiatives of counterbalanced container handlers including digitalisation, electrification and automation. She has 20 years of experience in both technical and digital product development as well as business development.
Mette has a Master of Engineering degree (M. Eng) from Technical University of Denmark (DTU) and a Bachelor of International Marketing from Copenhagen Business School.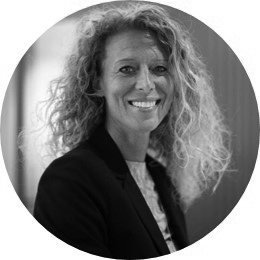 Tobias Zink
Terminal Business Sales Manager
Tobias is Sales Manager Terminal Business and has been employed by Kalmar in Hamburg for 3 years. For the past 20 years everything has always revolved around industrial trucks. After completing his apprenticeship as a service technician and further training as a sales representative, Tobias worked for several years as Head of Service at a Hamburg industrial truck manufacturer. With the change to a service provider in the Port of Hamburg, the product portfolio has expanded to include reach stackers and empty container stackers. In 2018, there was then the opportunity to join the Terminal Business area as Sales Manager for Northern, Eastern and Central Germany.